THE PRINCIPAL EPISTLES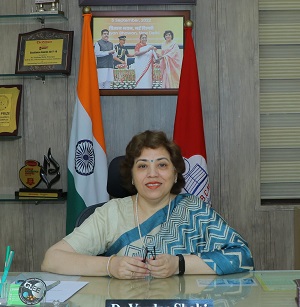 The deadly infectious Covid 19 has triggered a chaotic social atmosphere and brought a paradigm shift to how we learn at schools. It has transformed the centuries old chalk-talk teaching model to one driven by technology.
Currently, the digital platform is enabling students and teachers to access a plethora of learning opportunities. Classroom learning has been seamlessly integrated with e-learning modes to build a unified learning system. We at BCM have updated equipment and are capable of teaching our students with both offline and online mode. Our faculty is adept and also ready to face all kind of challenge. We are capable of developing skills that can drive their employability, productivity, health and well-being in decades to come and ensure overall progress of our nation as well.
Year after year, the school sprints to the next pedestal leaving an indelible mark behind. This year too, amidst the pandemic there have been tremendous achievements. Our students excelled in KAMP Test organised by CSIR at both state and district level and some were also selected in the Top 500 nationwide in the prestigious ICC All India Competition 2020 organised by ISRO. We hold tight to the opinion that success is authored by consistent, directed, self-motivated and intelligent effort. Thus with sincerity, dedication, perseverance and honesty we tread ahead having the conviction that if we do the best, He will do the rest. The lockdown has provided us with ample of time for the test and trials of novel pedagogies which we plan to further implement in the future curriculum.
The need isn't for new horizons but new spectacles to see the existing horizons. Life is beautiful, all we need to do is see it with fresh eyes.