THE PRINCIPAL EPISTLES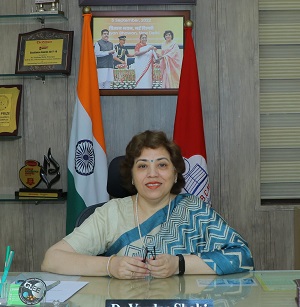 Quality Consciousness is expecting more from self, than what anyone else expects of you."
We at BCM believe that quality education is the mother of all the goals in this progressive community. Thus metaphorically, an ideal school aims to empower students to acquire, demonstrate, articulate and value knowledge and skills that will support them as lifelong learners. As stakeholders, it is our responsibility to serve the community through powerful alliance and careful planning of strong and effective school programmes. The flexibility and freedom to design pedagogies empowers teachers to help the young learners to be conceptual thinkers and tinkers, generator of ideas, and self starters.
The collective efforts of the school management, staff, support staff, students and parents enabled us to bag the most prestigious award this year. By having this award in our cabin, we are all the more motivated to do our best. This is a token of our previous endeavours and is also a push factor for our future efforts.
The school ensures that the young learners not only know 'How to Count' but are also aware of 'What Counts'. The school provides state-of-the-art facilities, upgraded technology and infrastructure to optimize teaching and learning outcomes. The use of latest digital media tools will facilitate adaptive learning curriculum that connects to students of all learning styles. The technology intervention provides a platform to students and teachers to browse, research, collaborate and expand their horizon.
Every facilitator ignites young minds about their ethical obligations towards society and environment and develops a sense of responsibility and sensitivity towards their surroundings. We aspire to create just and ethical students, wise and principled leaders, enlightened, productive and adaptable citizens.
With parents by our side, we are sure to unearth the latent potential of Gen Z, and help them to have a seamless schooling. As we strongly believe '
Together We Can, Together We Will .