THE PRINCIPAL EPISTLES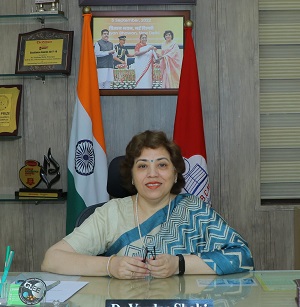 Education breeds Confidence. Confidence breeds Hope. Hope breeds Peace." - Confucius
In the past couple of years, when the Coronavirus disease adversely affected every sphere of life and the world came to a halt, it was the education that continued. The pandemic triggered off digitalization and brought revolution in the field of education. The schools across the globe immediately adapted to the online mode which was a seamless transition from offline to online. From a typical traditional classroom with digital support, we, along with the entire world, had to switch to the digital classrooms during the unprecedented lockdown.
Now when the things are getting better, we are learning to steer through the new normal. It's time to embrace the new session with new energy and new hopes to experience new things. We are ready to make every stakeholder feel welcomed and connected as an important member of our community where we strive to build positive relations that support holistic development of a child.
Here at BCM, a safe and secure learning environment is provided to children that encourages to bring out the best in them and enables their all-round development through the joy of learning, enduring values and the celebration of diversity. The school ensures that the young learners not only know 'how to count' but are also aware of 'what counts'. The school extends an array of opportunities in the field of sports, technology, literary arts and performing arts which will help the students to discover and nurture their potential.
The state-of-the-art facilities, upgraded technology and infrastructure have been provided to optimize teaching and learning outcomes. A fully furnished Tinkering Lab has been set up, where the flexibility & freedom to design will empower the young learners to be conceptual thinkers, generator of ideas and self starters. The introduction of film based learning module i.e. School Cinema will not only reaffirm values and morals but also equip the children with skills to deal with everyday challenges. Furthermore, the integration of technology in education will empower young learners to compete with the world beyond.
Besides igniting the young minds about their ethical obligations towards society and environment ,the school develops a sense of responsibility and sensitivity in them towards their surroundings. Time to time, Interactive sessions and skill oriented workshops are organised for both students and teachers with experts and eminent personalities for their personal and professional growth.
BCM envisions imparting quality, yet affordable education to children and ensures seamless transition to tertiary education of their choice and make them custodians of their own physical, emotional and spiritual well being. The main objective of the school is to unleash the hidden talents of the students, encourage them to learn beyond their curriculum, develop a thirst for knowledge and a passion for excellence.
We Care, We Share
For the Future, We Prepare